Buttock pain
Please note the conditions below are only possible causes of your pain and many other structures can be the source of your symptoms. Therefore a thorough evaluation by a physiotherapist is necessary to make an accurate diagnosis and treat not only the symptoms but also the origin of the pain.
Buttock pain
Pain in the buttock can arise from various local structures or can be referred from the lumbar spine or sacroiliac joint. Therefore a good assessment is necessary to treat the origin of pain and not only the symptoms.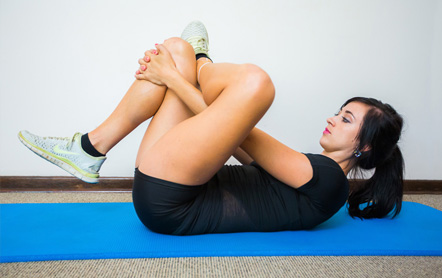 Signs and symptoms:
Buttock pain may be referred from the lumbar spine in the presence or absence of low back pain. Deep aching diffuse pain that is variable in site is an indication of referred pain. Buttock pain accompanied with low back pain may suggest lumbar spine defect. Buttock pain accompanied with groin pain may suggest SIJ or hip involvement. If the pain is fairly constant in nature and easy to localise, the pain may be originating from a structure in the buttock region itself. Increased local pain on prolonged sitting can indicate ischiogluteal bursitis.
Treatment:
Joint mobilisation techniques of the joint involved will have a neurophysiological effect and will help with decrease in pain and stiffness and will restore joint kinematics.
Soft tissue treatment and dry needling therapy is used to decrease muscle spasm and stiffness.
Neural mobilisation is used to restore neural mobility.
Taping is used to either improve joint stability or aid in normal biomechanics.
Rehabilitation: To restore normal control, strength, coordination and balance in the trunk, buttock, hip and lower limb region.