Groin pain
Please note the conditions below are only possible causes of your pain and many other structures can be the source of your symptoms. Therefore a thorough evaluation by a physiotherapist is necessary to make an accurate diagnosis and treat not only the symptoms but also the origin of the pain.
Groin pain
The anatomy around the groin region is complex and often multiple pathologies co-exist.
Signs and symptoms:
The location of pain gives an indication of the structure causing the pain. There is certain activity that aggravates the pain that might give an indication of the structure involved, but these are only guidelines and the entire groin region complex should be thoroughly investigated.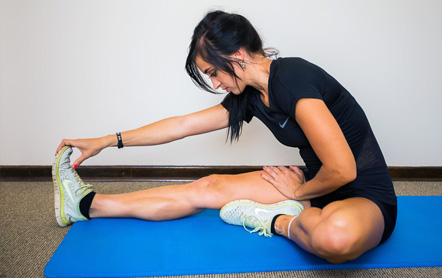 Adductor related pain is located medially in the groin and is usually aggravated by side to side movements or twisting and turning activities. Iliopsoas related pain is located more centrally in the groin and proximal thigh. Pain may be aggravated by straight line running or kicking. Pain with sit-ups, coughing or sneezing may suggest inguinal related pain. Stress fracture, bursitis or nerve entrapment should also be considered if the pain gets progressively worse with exercise.
Treatment:
Joint mobilisation techniques of the joint involved will have a neurophysiological effect and will help with decrease in pain and stiffness and will restore joint kinematics.
Soft tissue treatment and dry needling of the affected muscles is used to decrease muscle spasm and stiffness.
Neural mobilisation of the nerve involved is used to restore neural mobility.
Taping is used to either improve joint stability or to decrease the load from the affected muscle.
Rehabilitation: To restore normal control, strength, coordination and balance in the trunk, buttock, hip and lower limb region.