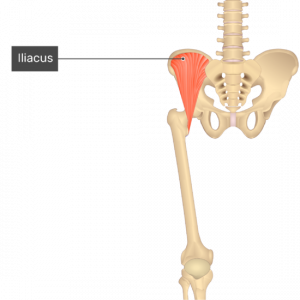 The iliacus muscle
The iliacus muscle is shaped like a triangle, flat and an exact fit of the iliac fossa — the curved surface of the largest pelvic bone. Together with the psoas major muscle, it is also called the iliopsoas muscle. The muscle inserts on the tendon at the lateral (outer) side of the psoas major muscle, which stretches from the lumbar spine in the lower back to the lower pelvis. Some of these fibers extend to the femur bone, or thighbone.
Functions include:
Bending the hip and turning the hip to the outside
Assists in maintaining proper body posture
In combination with the psoas major muscle, it is considered the strongest hip flexor in the body.
Adds to an anterior pelvic tilt (down and forward tilt)
Important in activities such as walking, running, bending your trunk forward
Dysfunction of the muscle (such as muscle shortening) may lead to pain in the hip, groin, lower back and upper thigh. Your physiotherapist can assist with evaluation of the muscle, and if needed further management.